Sunday, February 9th, 2014
Ninux.org supporta e partecipa al Battle of the Mesh v7  insieme ad altre community come Guifi, AWMN, Freifunk, Wlan Slovenja, Funkfeuer e molte altre.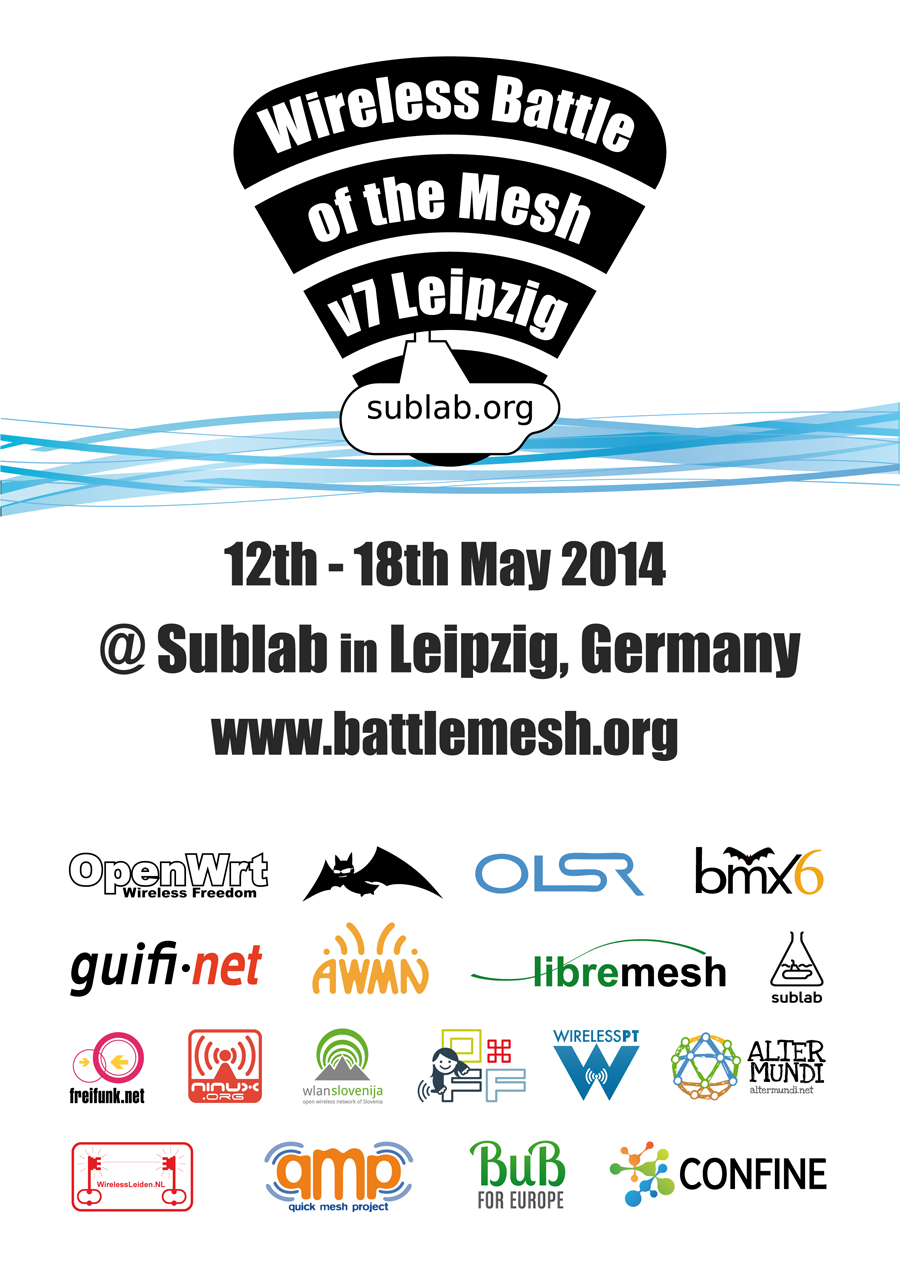 Il "Wireless Battle of the Mesh" è un evento che mira a far incontrare persone da ogni parte del mondo per testare le performance dei vari protocolli di routing dinamici per reti wireless come OLSR, B.A.T.M.A.N., Babel, BMX6 e 802.11s.
Il Battlemesh è anche un occasione che permette di far incontrare i partecipanti delle reti comunitarie libere di tutto il mondo per conoscersi, confrontarsi e imparare gli uni dagli altri.
Il Battlemesh è un evento comunitario gratuito, non c'è alcun costo di entrata e ogni anno vengono fatte convenzioni per abbattere i costi di partecipazione.
Inoltre al Battlemesh saranno presenti  gli sviluppatori dei protocolli di routing principali, gli sviluppatori di OpenWRT e gli sviluppatori di altri firmware basati su OpenWRT, quindi è un ottima occasione per fare domande tecniche ed affinare le proprie skills.
Se ti interessano i protocolli di rete dinamici o se sei un vero ninuxiano doc non puoi assolutamente mancare!
Quest'anno l'evento si terrà da Lunedì 12  a Domenica 18 Maggio 2014 a Lipsia – in Germania – presso il Sublab, un hackerspace locale molto fico.
Se hai intenzione di venire iscriviti alla mailing list del battlemesh per rimanere aggiornato su tutti gli ultimi sviluppi.
Ninux supporterà l'evento in diversi modi:
promuovendo l'evento via web
portando molti ninuxiani, quest'anno siamo già circa una decina confermati!
proponendo talk sullo stato di avanzamento di Ninux.org
aiutando (mitico Clauz) con il testing dei protocolli di routing
Molte altre community supportano l'evento, una lista aggiornata è disponibile sul sito del Battlemesh.
Per maggiori informazioni logistiche ed organizzative consulta la pagina dedicata.